Beyond the Sidewalk (2016)
"Beyond the Sidewalk" is a short documentary directed by 
Jack Smith
and myself  that tells the story about the first skateboard push across America in 1976; Jack was one of the three man team that took part in this unique journey.
It was selected in a tie as Second Place Winner in the Centennial Short Sk8 Film Competition, September 24, 2016 at the Olympic Theater in Arlington, WA, USA. Jack and I hope it will serve as a pilot and launching pad for future short film projects about Skateboarding.
On behalf of Jack and myself thanks for taking a look.
H2O + HUmAnS (2011)
I was living in Rome at the time when Luca di Filippo, an architectural designer/photographer approached me
with the idea of collaborating together on a video project using a collection of his latest photographs.
Luca's images were taken around the Jeppe Hein's Appearing Rooms fountain at The Southbank Centre in London.
He described his project in his own words as: "A solution of water and happy human beings, distilled in back-light.
No faces, just bodies and gestures against a wall of water. A tale of joy and silent happy screams during the summer."
He gave me the complete artistic license to create something with movement and grace that would
highlight the atmosphere of his photographs. Hence, H2O + HUmAnS, the video was born.
Luca was awarded Honorable Mention at: International Photography Award 2010, NYC
and First prize in the Urban Category Britain's Competition organised by The Guardian.
I have the pleasure of presenting you our widescreen version. Enjoy.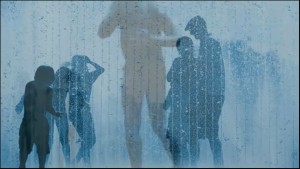 ……………………………………………………………………………………………………………………………………….
I have worked privately with Barbara Duran on several of her video installations.
When I first met her I got a sense of closeness while sharing ideas about her projects
and immediately felt her evocative approach and sensitivity to the film and video medium
as we worked on our first project together, LA DANZA (2009), a short shot in super 8mm .
Our collaboration together continued through the next few years completing another two projects;
VUELO EN REFLEJO and NON MI LASCIARE (Don't leave me).
 ……………………………………………………………………………………………………………………………………….