I knew Jim Freeman for only a year before he passed away and was gone from my life. When I heard the news of his tragic death in June, 1976  I was devastated . I was just turning 22  when Jim, at 32, died  from a helicopter crash in the Sierra Nevada, near Bishop, California. He was doing what he loved best when he died, he was filming.
The two of us met after I had won the Amateur Freestyle Competition at the Hang Ten World Pro-Am in 1975 when Jim approached me and and asked if I was interested to collaborate on a new Skateboard film project that he had in mind. The project turned out to be "The Magic Rolling Board" and it would later be added as a "story" to his already successful surfing film "Five Summer Stories". Jim took me under his wing as his "skateboarder consultant" and shared with me his art of film making while preparing and shooting for this new project . Away from the daily preparation and scheduling of filming  Jim and I became good friends and had a lot in common, like listening to music while eating popcorn or just sitting around and talking about life, all of which usually took place at his home overlooking the Pacific Ocean in Laguna Beach just a few blocks from the MacGillivray-Freeman Studios. During the shooting of  "The Magic Rolling Board" he always shared with me his love and enthusiasm of watching the light change during the magical hours at the break of day or during the setting of the sun. If we were lucky enough to a get a storm during the day Jim would patiently wait until the end and we would watch the "light" transform as scattering clouds would dance and play; something that to this day is a pastime and passion for me. All those experiences have stayed with me through my life and career in the film industry as an assistant film editor and years later as an on-line editor in the field of digital post production.
So what follows is a small collection of articles and links that pay tribute to my old friend, Jim, as he enjoys eternity's sunrise.
Wow, what a guy! I miss him.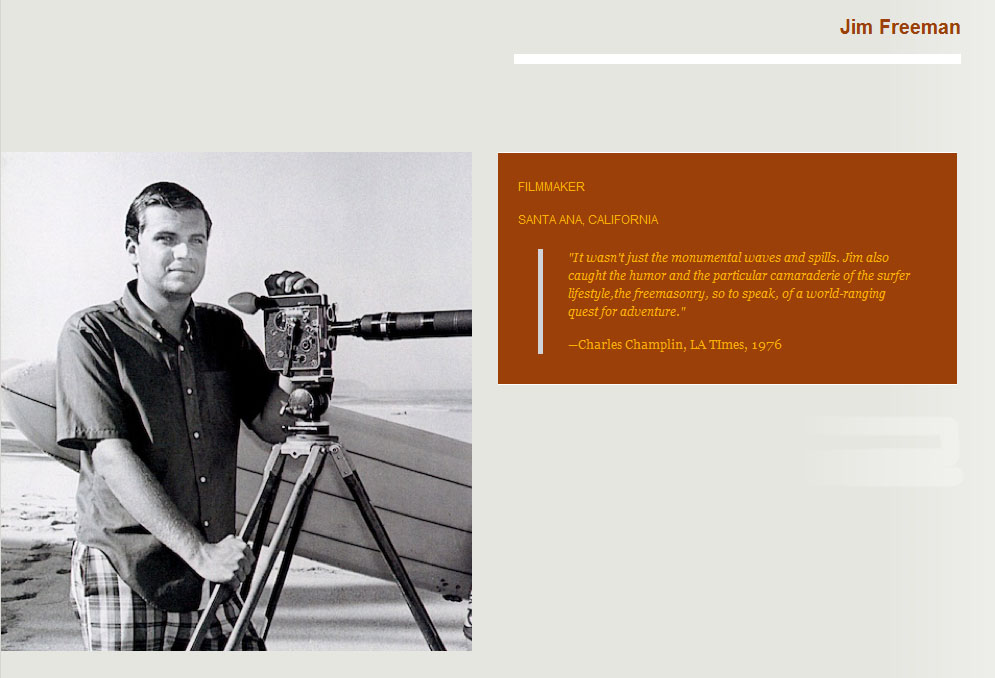 "Surf filmmaker from Santa Ana, California; cocreator along with Greg MacGillivray of the 1972 surf movie classic Five Summer Stories. Freeman was born (1944) and raised in Santa Ana. Let There Be Surf, his debut film, was released in 1963; over the next two years he produced Outside the Third Dimension (surfing's only 3-D movie) and The Glass Wall. He was also cohost for the 1964 Los Angeles–based Surf 's Up TV show. Freeman was 22 in 1966 when he met Greg MacGillivray, another Orange County surf filmmaker, and formed what would be one of surfing's best-matched and most successful partnerships. While both were meticulous and hardworking, the easygoing Freeman generally served as the team's technical expert, while MacGillivray was the creative force. They made three full-length surf films—Free and Easy (1967), Waves of Change (1970; rereleased in 35-millimeter the following year as The Sunshine Sea), and Five Summer Stories—along with a number of shorts, including Moods of Surfing (1967), The Loser (1968), and Who's Best? (1969). They also filmed the 1967 and 1968 Duke Kahanamoku Invita- tional contests for ABC-TV. The MacGillivray-Freeman team began working in Hollywood in the early '70s, with Freeman establishing himself as an aerial-shot expert in movies such as Jonathan Livingston Seagull (1973) and The Towering Inferno (1974). To Fly!, MacGillivray-Freeman's 1976 IMAX film, was the first movie shown in the just-opened National Air and Space Museum in Washington, D.C. On the day To Fly! debuted, Freeman, 32, was killed in a helicopter crash in the Sierra Nevada, near Bishop, California. Film critic Charles Champlin, in a eulogy for the Los Angeles Times, wrote, "It is hard to imagine anyone cramming more excitement and achievement into 32 years." MacGillivray continued to make movies under the MacGillivray-Freeman imprimatur. Freeman was inducted into the Huntington Beach Surfing Walk of Fame in 2000."
– Encyclopedia of Surfing
Greg MacGillivray and Jim Freeman-1974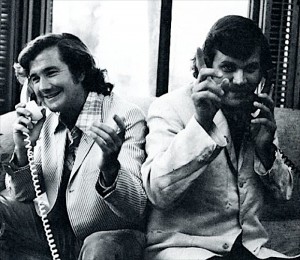 "It wasn't just the monumental waves and spills. Jim also caught the humor and the particular camaraderie of the surfer lifestyle,the freemasonry, so to speak, of a world-ranging quest for adventure."
—Charles Champlin, LA TImes, 1976
Jim Freeman with his inseparable Miller Tripod and 16mm Arriflex
at the California State Skateboard Championships-Ventura 1976 (Photo: Jeff Ruiz)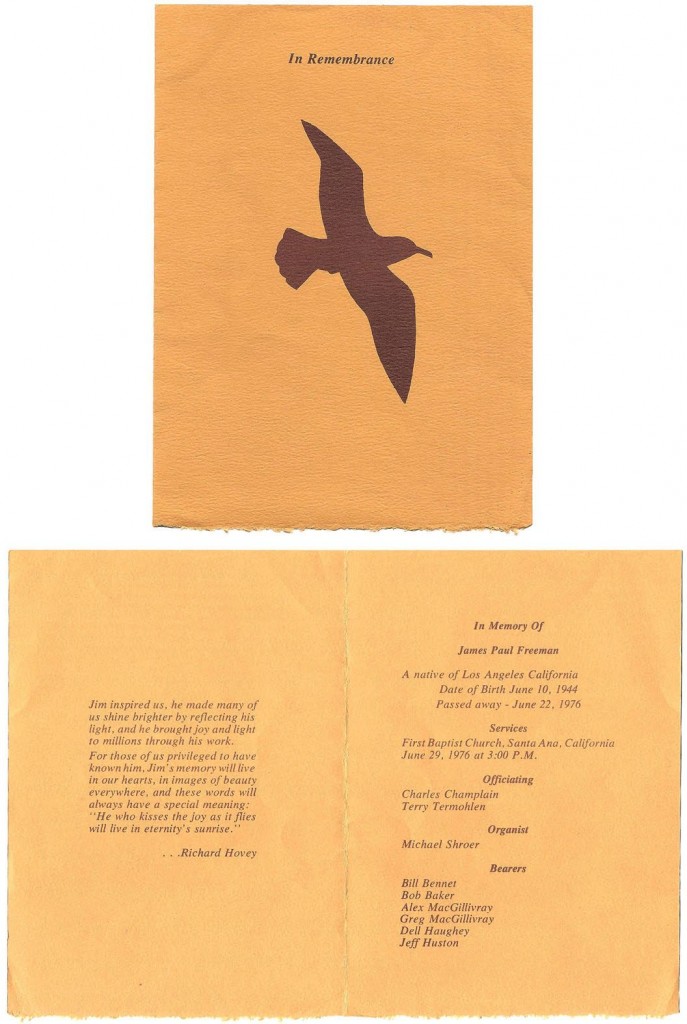 Charles Champlin-View Orange County, June 25, 1976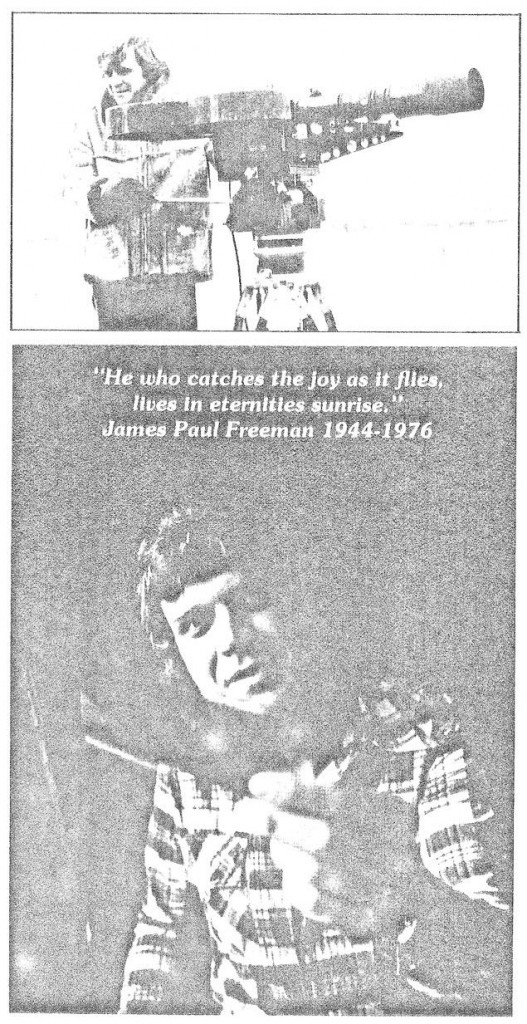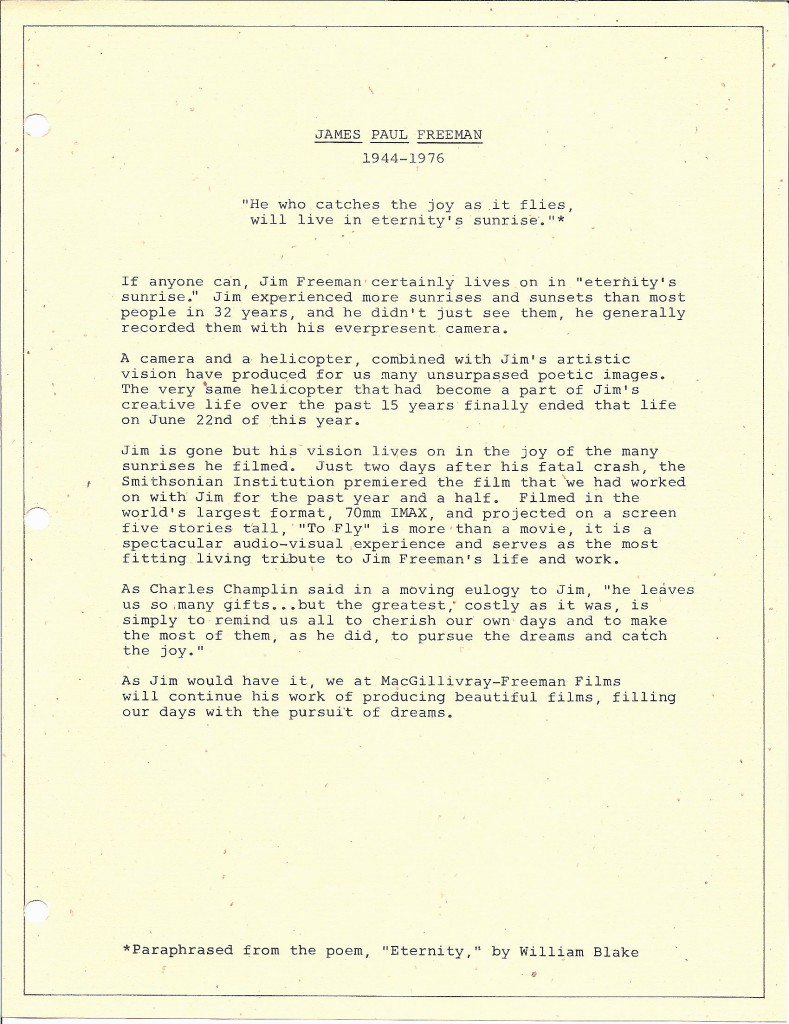 Jim Freeman at the California State Skateboard Championships-Ventura 1976 (Photo: Jeff Ruiz)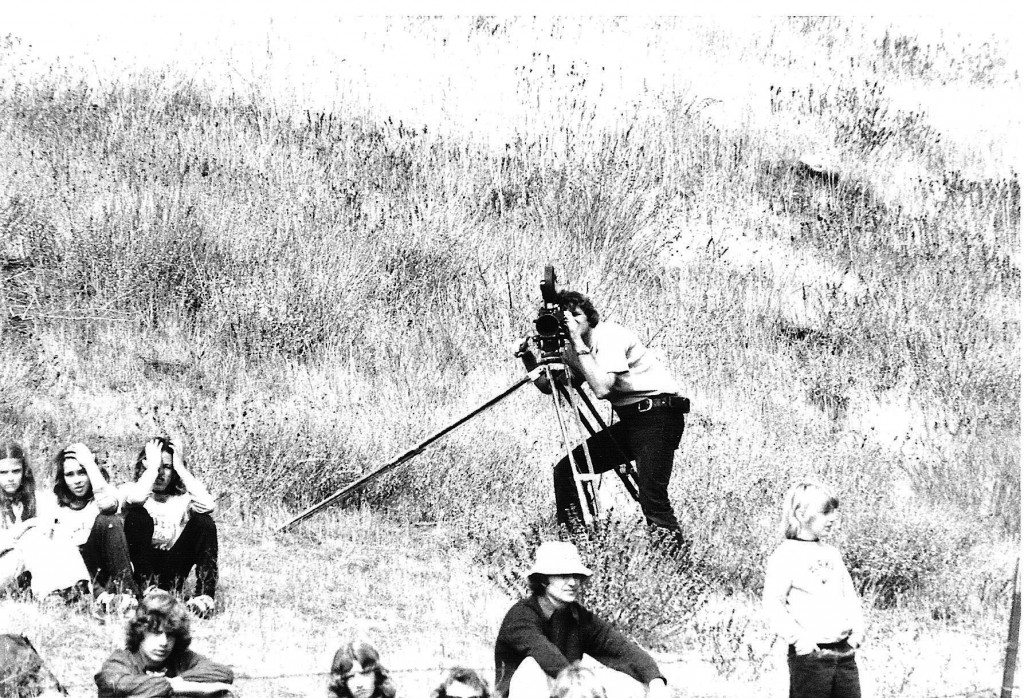 http://www.macgillivrayfreemanfilms.com/site/our-company/company-profile/our-history.html
http://www.surfingwalkoffame.com/culture/Mac_Free.html